I have wanted to do some console modding for some time, so I decided to do a mod which I didn't finish well when I was younger, a hard wired PlayStation 2 modchip .  I had failed at putting in a DMS 3 modchip in my large PS2 years ago, and ended up buying a pre-modded system because the solder points were a bit too small for me at the time.  There aren't many new chips these days, so I found an old clone called a Modbo 4.0 which is a clone of a Matrix Infinity.  Only real downside is you can't update the firmware on it, which really isn't an issue because they don't make new updates.
This was my first time using a butane soldering iron.  It was extremely convenient not having it tethered to a power outlet like most irons and it would heat up very fast as well.
This was on a v19 motherboard (GH-072-42) which is surprisingly still available new from Amazon, and had an integrated power supply in the unit. I didn't think they sold them anymore.  Some Gamestops in my area don't even carry PS2 games anymore.  After the chip was installed, it was playing PS1/PS2 backups just fine.  Installed OPL (Open PlayStation Loader) on a memory card, and was able to get games to boot off the network.  This is the diagram that I used.  I did see some videos on YouTube of some installers moving the 3.3v/Ground points, so I made a few alterations to this diagram.  My ground point connects to a point on the motherboard that is on the Ethernet adapter.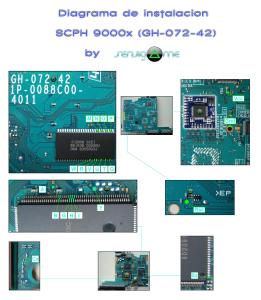 Prior to this, I restored a Limited Edition Halo Xbox console (Original Xbox) and fitted it with a 2TB Hard Drive, and an Xecuter 3 Chip.  I will post more about that a bit later.